Cue-me™ for Enterprises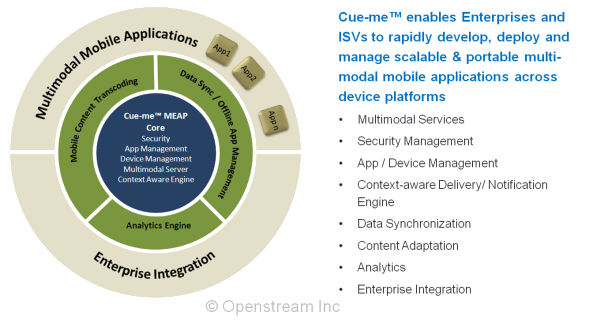 Our Credentials in Enterprise Mobility
Openstream does not just deliver the Mobile Application Platform and take a back seat – we partner with Enterprises to custom-craft their Mobile Strategy.
Cue-me™
The only commercial context-aware, multimodal platform available across mobile devices
Built on Open Standards, facilitating single-authoring of rich-mobile applications.
Available on all popular mobile devices, smartphones and tablets.
Deployed on more than two million devices across Enterprises in America, Europe and Asia.
Openstream
Co-Author of World Standards on Multimodal Interaction at the W3C®.
Founding member of the new HTML5+Speech XG at the W3C®.
Has several leading Banking, Energy & Utilities and Pharmaceutical companies as clients.
The Cue-me™ Edge
More than six billion people that is (80 % of the world's population are now using mobile) device. This kind of a proliferation of mobile technology can be overwhelming, especially to key business decision makers considering'mobility' in the enterprise. However, with the right strategy in place, this very proliferation of mobile technology can provide opportunities to deliver timely information and services to customers, partners and employees enabling increased revenues, improving business agility and boosting productivity. The Cue-me™ Edge allows Enterprises to leapfrog their legacy applications into a new age of mobile computing- an exciting space of multimodal, sensor based mobile devices and technologies.
Openstream does not just deliver the Mobile Application Platform and take a back seat – we partner with Enterprises to custom-craft their Mobile Strategy
Enterprise Mobility Challenges
In incorporating a Mobility strategy, Enterprises face several challenges today:

Application Development & Management
Developing for multiple devices and platforms which come in a variety of form factors and display sizes;deploying them and then managing them thereafter can be cumbersome and expensive.

Device Management
IT Infrastructure and operations (I & O) professionals need to invest in a mobile device management (MDM) solution to support multiple platforms and form factors while enforcing appropriate management and security policies to both employee-owned devices and corporate- liable devices.
In incorporating a Mobility strategy, Enterprises face several challenges today:

Rapidly Evolving of Device Technologies and Interfaces
Carefully Crafted Mobile Application Strategy for Enterprises from Openstream… Many organizations have taken the first steps in mobile technology but from the user's perspective, most businesses have not evolved the right strategy to fully leverage what mobile technologies can offer to Enterprise Applications today. There are problems such as:

User interface not being conducive for Interaction on the move
Lack of a secure and portable way to aggregate applications and delivery context
Lack of awareness of context and preference.
Fragmented development approaches
Lack of management of Applications and Devices in a secure manner.
Openstream recommends Enterprises consider a few factors before deploying a mobile strategy:
The questions that Enterprises need to ask:
What kind of growth in the use of mobile devices do enterprises need to plan for this year?
What is the future for enterprise mobility and what challenges would enterprises have to meet as adoption reaches new levels?
What role will HTML 5 play in mobile application development?
How can enterprises best protect investments in applications?
How will user-experience evolve and what role will context-aware computing play in the next 5 years?
What are the best practices that enterprises should follow to design context-aware user-experiences?
What are some considerations for enterprises to ensure successful mobile development?
Openstream's Answers
According to Gartner, there will be a consumer (enterprise) growth of 300% over the next three years in the use of mobile devices, over 500 million to 1.8 billion people use Web-capable phones.
Gartner predicts a 70 % annual growth rate in mobile advertising and more use of personal devices among employees within the enterprise.
Networks will be taxed as adoption increases and applications will be sensitive to this.
HTML 5 is a convergence point for application developers. This is where Openstream with its expertise and being the pioneers of HTML 5 have added value to the enterprise with their Cue-me™ platform.
Enterprises need to protect their investments by taking a multi-channel approach, look across all Web services and take content from several areas and scenarios.
User experience will become more multimodal and adaptive to new opportunities.
There will be greater situational awareness, user experience will transition across sessions and content will follow you everywhere.
How Cue-me™ can help Enterprise Applications transition into a new era of mobile computing
In a Context-Aware, Multimodal environment, mobile applications need to respond to several cues from the environment. Running within the Cue-me™ platform, Enterprise applications can automatically receive, manage and respond to these cues in a manner commensurate with the situation. Enterprises can now execute a multi-pronged mobile enablement strategy, and take advantage of the convergence of multimodal and sensory technologies, manipulating and moving data fluidly at the point of activity, thereby ensuring better productivity, maximizing the efficiency and efficacy of mobile deployments.
Our multiple service offerings such as "mobile strategy consulting" helps Enterprises in different ways:
Develop rich mobile applications technologies and tools that are based on standards set by W3C.
Take advantage of the growing ecosystem of third-party libraries and frameworks
Rapidly develop, deploy and manage scalable and portable multimodal mobile applications across device platforms
Connect and unlock business information from applications on the cloud and on-premise, and make it easily consumable for apps on mobile handsets.
Deliver best-of-the -breed solutions to clients using our experts who can refine methodologies, create license-free re-usable components, tools and processes
Extend business services to the widest community and consumption models through scalable Web API management
Enable a broad network of internal and external developers to incorporate services into new apps through a centralized portal
Support devices running Apple iOS, Google, Android, and Microsoft Windows Phone platforms