Cue-me™ for Developers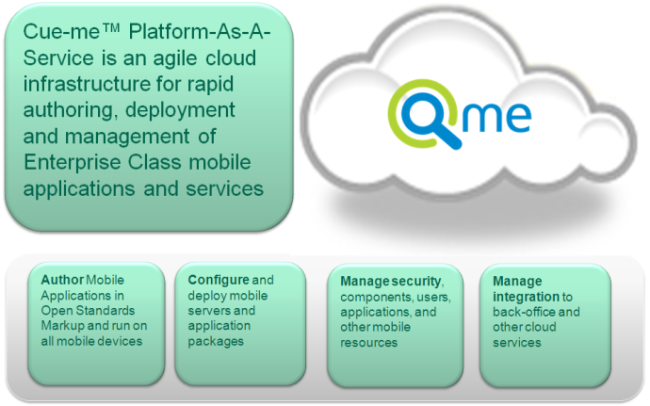 Cue-me™ is the world's first Context-Aware and Multimodal Mobile Application Platform, running on a variety of mobile devices, smartphones and tablets
Developing Portable Context-aware Multimodal Applications - Using Open Standards HTML5 has paved the way for development of rich web applications and has been widely adopted by mobile application developers.

Ease of user-interaction (User Experience) with applications has become a prime focus world-wide, thanks to the proliferation of mobile phones and tablet devices. User-interaction through speech, touch, gesture, swipe and various sensory technologies has become the key differentiator in the success of popular mobile applications today. The recent success of technologies such as Apple's SIRI and Google's Voice Assistant in mobile phones has increased the awareness of such hybrid input and output methods among developer and user communities.

However, the developer community often finds it daunting to incorporate these innovative I/O methods as part of their applications, given the diversity of mobile devices and programming techniques. Adopting short-cuts for incorporating such I/O mechanisms in development often results in diverse short-term strategies that may not work for any reasonably sophisticated/complex applications across device/OS platforms.

Built on W3C® Open Standards, Cue-me™ delivers "Multimodal, Context-Aware" computing, enabling sophisticated interactions via a combination of hard and soft sensors. This opens up new opportunities for developers to create the next generation of products.

The advantage with Cue-me™ is that it is a single-authoring platform to develop multimodal applications which run on all popular smartphones, tablet and special purpose devices. Because they are built on Cue-me™, the mobile applications are automatically compliant with W3C Open Standards.
Benefits to Developers:
Adapt the application behavior to user, network, device, motion and other available contextual information
Take advantage of simultaneous multimodality, through the convenience of speech, touch and key press to naturally interact with your Enterprise applications, and improve your productivity.
Enable Open Standards based application Authoring, Management and Deployment across all mobile device platforms in the Enterprise.
Execute a multi-pronged mobile enablement strategy, maximizing reuse of existing resources and applications, and delivering cross-platform rich applications at the same time.
Developing Portable Context-aware Multimodal Applications - Using Open Standards
Features
Single author mobile applications that executes on multiple device platforms
Multimodal, context-aware application interaction
Adaptive, robust security model
Benefits
Easy to use, natural interaction with mobile devices
Rich user interface with built-in peripheral integration
Work anytime, anywhere regardless of network signal strength
Platform Highlights
Multimodal: Users can type, touch, talk and gesture to interact in a multimodal way with applications on mobile devices
Portable: Uniform markup execution across Smartphones, Tablets, Rugged Devices and Specialized Embedded Operating Systems
Context-Aware: Brings in device, environment and other context data for intelligent application interaction and execution
Secure: Protects enterprise data by using secure transmission channels and storage, with multifactor authentication and authorization
Managed: System administrators can centrally control the platform, perform application upgrades and manage security
Extensible: Cue-me™ is built using W3C MMI Open Standards based architecture. Enterprises and ISVs can easily extend the platform functionality to suit their needs
Platform Features
Available on Android, BlackBerry, iPhone/iPad, Symbian Series 60, Windows Mobile platforms
Enables Multimodality on existing web applications
Allows interaction with applications both in network-connected and disconnected modes
Captures rich data such as images, ink annotations, maps, documents, voice notes, barcode scans and signatures
Integrates on-device peripherals such as camera, GPS, card reader and barcode scanners for rich set of capabilities on the device
Integrates local device data such as contacts, alerts (SMS) into application workflows
Facilitates remote device/application management, automates data synchronization and security